---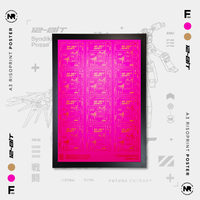 Designed by cult agency mescaline.co This design sits at A3 size Captures the motion of the Robots leaping ..
in unison, working together, as the two machines are known to be the backbone of multiple music genres - and still to this day is being copied but never equalled..
 
We bring you - 12-Bit A3 POSTER  for those who appreciate Gravitational urban mesh of machine* culture & creating for now, past, and futurism… for those Battle Machines, & 12-Bit Slices, Hooks n Beats. SP1200, Soundwave.  S950 for those who like Machines kinetically fired up for that 12-bit combo. Man, Machine, Noise, Hiss, Beats & Grit - bring the noise.. 

+ Hip Hop 
+ Techno
+ House 
+ Ambient
+ Lofi
+ Trip Hop 
+ Drum & Bass
+ Your Music
---
Hyper Limited Poster: 12-Bit Machine (Vivid Sunset | Pink)
SKU: POS-FUT0002-0088
Technical Specs:
Poster DATA:                12bit Ink Metallic Gold
Limited Edition:           Less Than 10
Designed:                       Mescaline.co
Authentic:                      Machine v Machine
Screen Ink:                     Printed & Layered 
Paper Stock:                 GF SMITH | 290gsm | COLOUR SERIES | Uncoated
Untreatment:               Ink on Pink Paper Stock
Unframed:                    A3 SIZE
Provenance:                  Signed by Mescaline.co
Sample Rate:                 26.04 kHz
Bit Rate:                        12-bit
Size                                        A3
Other Names                     Ledger, Tabloid
Width x Height (in)         11.7" × 16.5"
Width x Height (mm)     297mm x 420mm
Shipping Information:
We use The Royal Mail (who have been posting for over 500+ years). Royal Mail streamline how we send and receive our items. We ship worldwide and use Tracked and Signed for Shipping only. Many of the items are unique one off designs - so it's the only method we use. 
---
"All I see is blinkin' lights... track boards and fat mics, 950's, SP-12's, MP60's"

— A.G.
The Future is uncertain... random chaos in the system... we chose 'Disrupt or be Disrupted' as our Maxim.
F.E is a tough little design unit, based in the UK. We are a diverse team of ages, backgrounds and influences. Gravitational urban mesh of machine, culture living & creating into the now, past, and futurism… We are aesthetic, ephemeral and Hi-tek, deep into wearables and machine driven conceptual art, we are about instinct not trends. Driven by well crafted and understated design, for the futurescape 12-bit, RGB, CMYK & Augmented Unreality - duel function, front loading and psyche upgraded to connect with the inner sphere fabric of space - time - entropy. So be prepared to get all your favourite machines pushed through the optics of Future Entropy... from our minds to yours.