---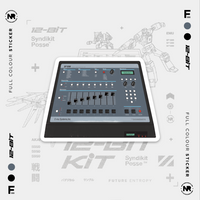 Hey... Thanks for looking. We really want to start off with how we intend on treating our customer base - honestly, and with integrity. So we are extremely excited to share with you our forthcoming products, however, as we are still working on our logistics nothing is shipping just yet. But this is where it gets good, you can be first to know and by joining our early birds email list please note in the subject line which product - and what product, size, or colour... and we will give you first choice. When it's ready to ship.
Feel free in your email to also make any creative suggestions or product feedback, and of course report any broken links to us.
We are new... see anything wrong or you're not happy with then please tell us, see anything right and you are happy with… please tell the world. Share, tag us and send us screenshots. Sign up to the early birds to get automatically added to our regular prize draw - Teenage Engineering Pocket Operators.
The Future is uncertain... random chaos in the system... we chose 'Disrupt or be Disrupted' as our Maxim.
F.E is a tough little design unit, based in the UK. We are a diverse team of ages, backgrounds and influences. Gravitational urban mesh of machine, culture living & creating into the now, past, and futurism… We are aesthetic, ephemeral and Hi-tek, deep into wearables and machine driven conceptual art, we are about instinct not trends. Driven by well crafted and understated design, for the futurescape 12-bit, RGB, CMYK & Augmented Unreality - duel function, front loading and psyche upgraded to connect with the inner sphere fabric of space - time - entropy. So be prepared to get all your favourite machines pushed through the optics of Future Entropy... from our minds to yours.