---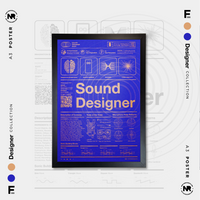 Sound Designer
Why did we create this Art? .. We started with cassette pause mixes and later evolved to studio reel 2 reel and now as a team - we design 100s of Hollywood film trailers and we are passionately in love the craft, the planning, the gathering foley props, the microphone hunting, the location scouting, the recording and being chased away by angry guards, the failed experiments, the cul-de-sac deadends… to finally find the one sound that works.. the strange object that is used in the kitchen is now the sound of A Quiet Place, or vintage trains the sound of Harry Potter, or grandfather clocks the sound of Bentley Motors indicator sound.. the list goes on.. Sound Designers - this poster is the first of a few designs but this one's belongs for you. For all who have fallen, those who are in the zone, and those who are striving.. we love you.. This one is yours! F.E.
If you are a Sound Designer - you can create anything from any sound. Your focussed ears for Foley, Waveforms. Analogue - Digital - Source - you are creating Monsters Micro Robots, Giving life to visual scenes, & immersing into Atmospheres. Imaginary worlds.. YOUR UNIQUE AT THIS CRAFT .. and you know it.. So do we.. Sound Designers - Do it your way .. show the world YOUR unique Sound Design Art Print..
Highly Limited Poster - Unique A3 Paper
SND DZN - A3 Art Prints - Posters are beyond unique. Handmade by underground design team at Mescaline.co - These are signature 1 of (1/1) prints, meaning (there is only 1 we made).. why.. because we know it's important to own something unique, and you will only get 1 chance to buy one - after they are gone they are GONE!

Paper
A3 Poster Highly Limited. Authentic high grade - Ink on ultra high quality 290gsm from worlds best paper supplier GF Smith Stock Blue Paper. (we hyper tested many different paper stock)

Authenticated
Designed by cult agency mescaline.co for Future Entropy.
The Future is uncertain... random chaos in the system... we chose 'Disrupt or be Disrupted' as our Maxim. This art print design sits at A3 size, printed with INK, by hand and each one dried and stored away, till we were ready with the shop - we will send you an authentication signed certificate with each one. Numbered so you know these are unique & hyper limited - Signed.
---
Hyper Limited Poster: Sound Designer (Pacific Reflections | Blue)
SKU: POS-FUT0003-U032
Technical Specs:
Poster DATA:
12bit Ink Metallic Gold
Limited Edition:
Less Than 10
Designed:
mescaline.co
Authentic:
Machine v Machine
Screen Ink:
Printed & Layered
Paper Stock:
GF SMITH | 290gsm | COLOUR SERIES | Uncoated
Untreatment:
Metallic Gold Ink on Blue Paper Stock
Unframed:
A3 SIZE
Provenance:
Signed by Mescaline.co
Sample Rate:
26.04 kHz
Bit Depth:
12-bit
 
Size:
A3
Other Names:
Ledger, Tabloid
Width x Height (in):
11.7" × 16.5"
Width x Height (mm):
297mm x 420mm
Shipping Information:
We use The Royal Mail (who have been posting for over 500+ years). Royal Mail streamline how we send and receive our items. We ship worldwide and use Tracked and Signed for Shipping only. Many of the items are unique one off designs - so it's the only method we use.
---
"I'm a Painter in sound"
— Brian Eno.
The Future is uncertain... random chaos in the system... we chose 'Disrupt or be Disrupted' as our Maxim.
F.E is a tough little design unit, based in the UK. We are a diverse team of ages, backgrounds and influences. Gravitational urban mesh of machine, culture living & creating into the now, past, and futurism… We are aesthetic, ephemeral and Hi-tek, deep into wearables and machine driven conceptual art, we are about instinct not trends. Driven by well crafted and understated design, for the futurescape 12-bit, RGB, CMYK & Augmented Unreality - duel function, front loading and psyche upgraded to connect with the inner sphere fabric of space - time - entropy. So be prepared to get all your favourite machines pushed through the optics of Future Entropy... from our minds to yours.